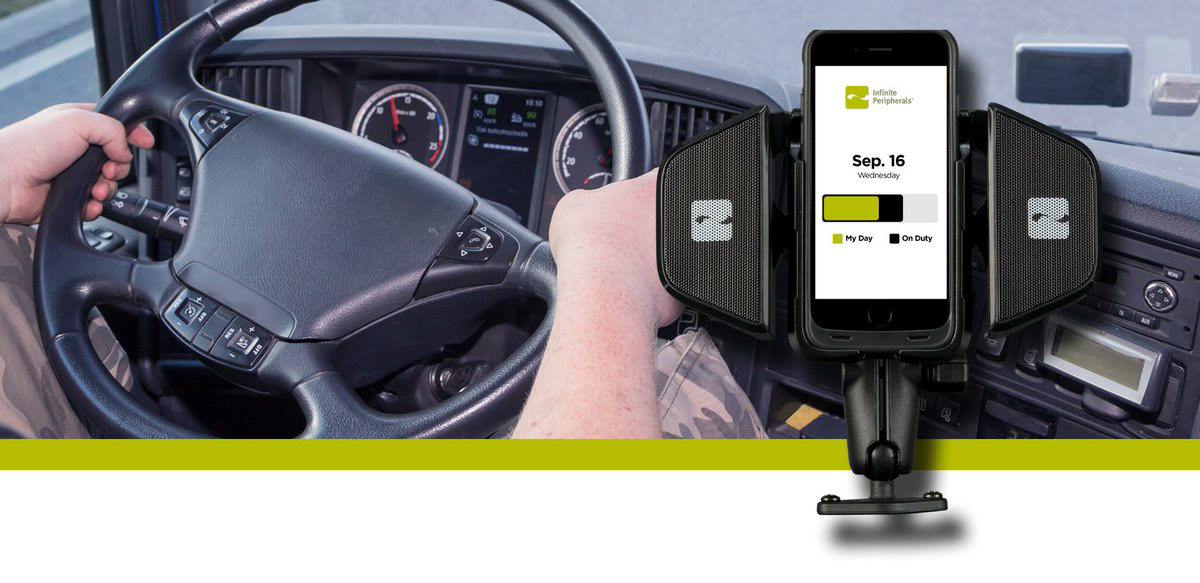 Electronic Logging Device is electronic hardware that is attached to a commercial motor vehicle engine to record driving hours. The driving hours of commercial drivers are typically regulated by a set of rules known as the hours of service in the United States.
A leading beverage distributor in the U.S. wanted to take their ELD compliance to the next level while saving costs along the way. To this company, fleet safety was of paramount importance, and they wanted to become ELD compliant with an out of the box mobility solution. Essentially, this leading beverage distributor sought to establish safe driving and logging procedures without imposing further hassle on the workers behind the wheel. 
In order to do right by their employees, this company chose the iPhone as their logging device of choice. Not only did each employee receive an iPhone to monitor their hours of service and vehicle data, but the drivers were also allowed to use the device for individual purposes. Implementing an iOS-based logging system helped recording seem less tedious and more familiar.
Although utilizing an iPhone as an ELD compliant device has many benefits, there are problems that arise with it.
• Some drivers make more than 20 deliveries a day. As each delivery involves plugging and unplugging the device from a charging port or vehicle mount, the wires and charging ports accumulate a lot of wear and tear from daily use. This forward-thinking company decided they wanted to make it even easier on the driver and save money on replacing cords and fixing devices. How could this company eliminate the constant plugging and unplugging?

• ELD (Electronic Logging Device) mandate from the government - ALL trucks must have an ELD installed inside the truck. Drivers must operate the device "handsfree", meaning that the device must be mounted into the truck interior. Drivers are not allowed to hold the ELD while operating the truck at the same time, this is considered similar to distracted driving and the usage of mobile phone.
• Fines and Penalties - Using a hand-held mobile phone while driving a CMV can result in driver disqualification. Penalties can be up to $2,750 for drivers and up to $11,000 for employers who allow or require drivers to use a hand-held communications device while driving.
Due to the limited time constraint of the project, our team proceeded with an accelerated design process which involved constant back and forth communications, working very closely with the Sr. Director of Product Strategy & Solutions, gather user insights, iterative prototyping, swift design validations, and leveraging our manufacturing partners for reliability support. As a result, our team was able to delivered a complete solution of a full truck fleet ELD ecosystem for the iPhone from start to production within an incredibly short 4-month time frame.


• Powerful magnetic connection eliminates the need to constantly plug and unplug device
• All-in-one: dock the MAGLINQ enabled device to immediately start syncing, charging, and monitoring
With a smartphone-based ELD, drivers will always have their driving data at their fingertips. Their ELD app will accurately log all their time spent working both behind the wheel and outside the vehicle. Connection to the back office means that both drivers and carriers can monitor hours, and ensure limits aren't exceeded.
The Maglinq ecosystem increases safety, asset utilization, driver productivity and satisfaction.
MAGLINQ is a magnetic iPhone case that holds the device securely to the MAGLINQ vehicle mount. The MAGLINQ's powerful magnetic connection allows for easy docking and convenient charging. As soon as the MAGLINQ enabled device is docked into the mount, it immediately starts charging, logging, and syncing data.